forestman
Participant
Dream Truck Eh!
Here it goes
This is one of my dream builds where money and emissions are non-issues, the main purpose would be long distance travel, literally traveling all around the world and exploring areas that aren't even on maps (I know everyone says that but I'm being serious, lol).
First, Buy a brand new Hilux Single Cab Chassis 2.8 diesel with Auto 6 speed trans in white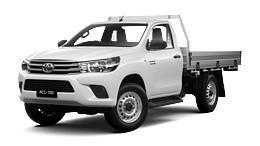 Now the fun begins
Get rid of the ifs, custom fab a 3 inch stretch 3 link making the wheelbase 124 inches, using a tru hi-9 center and fzj80 outers, arb locker and cro-moly shafts.
Then get a custom rear axle housing fabricated for a tundra 10.5 inch center with arb locker, full float conversion with drive flanges and 36 spline cro-moly shafts
Keep to rear leaf sprung to allow the installation of long range tanks (Hilux's are SOA from the factory vs 70 Series Cruisers which =more clearance)
Get a custom fully enclosed canopy made with full size side doors, fridge , power center, inverter… all that good stuff.
Simple engine upgrades, unichip, snorkel, exhaust, tune
Trans shift kit, roll control for rear digs, lights, front and back winches
37 inch mud terrains, dual rear swing out tire carrier
There it is, my dream build, very simple