January 22, 2019 at 8:06 pm
#207788

toys-n-yotas
Participant
I'll chime in here.  When Sam and I looked at our house to buy it in 2012, I didnt need much convincing past the shop.  It's an oversized double car garage approx 24' wide, 32' deep.  With enough time spent stacking, I have fit at one time Tacoma, Grand Caravan, 3 atv, 4 dirtbikes, and 30-years worth of my dads spare parts for cars he doesnt own.  Space was very tight, and squeezing both cars through the single bay door was fun, but I didnt have to scrape 1" of ice off anything once the freezing rain went away.
I made myself a floor plan back in September while I was trying to figure out my new setup.  With Redee going under the knife all winter, I had to make sure I was prepared.
work space all 4-sides around Redee (roughly 14ft long x 6ft wide)
open space to "explode" some assembly should I need to disect it
Occasional parking for Sam's focus should an exceptionally bad storm roll through
working space for an ATV as my neighbour and I flip broken kijiji shit for fun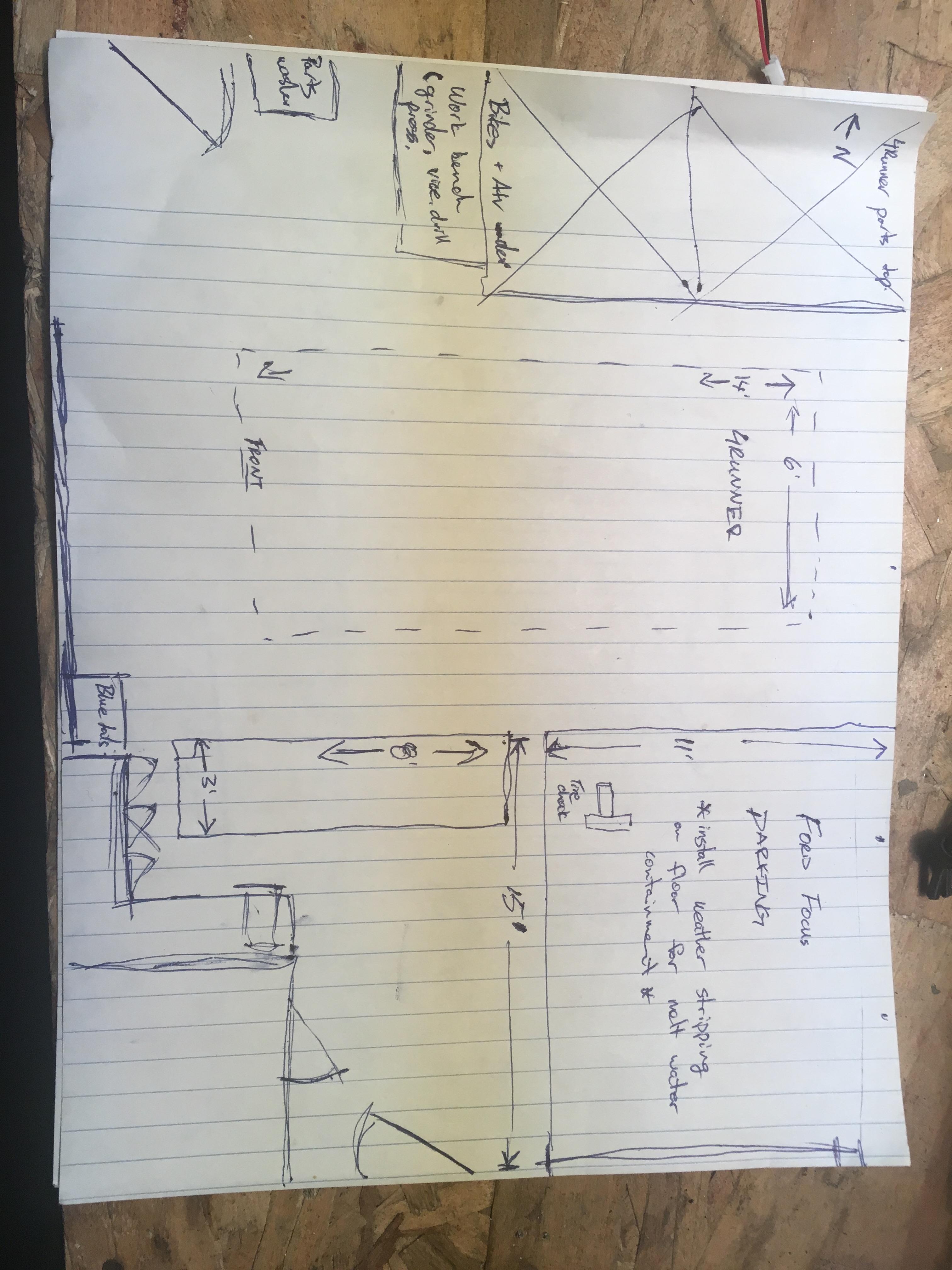 With the current setup Ive hit my targets, and technically the Taco fits inside with 1-inch to spare…exactly 1" when tbe front bumper is touching Redee's rear tire.  It fits, but not well enough to perform any work.  Protected parking only.
Changes I desire?
Cheaper heat!!  Stupid electric heater is too expensive to run.
Taller ceiling height, or steeper pitched roof to utilize as overhead storage.  Anybody dreaming of a hoist?  Not with 9' ceilings you aren't.  Man-cave loft….somewhere to sit and drink a beer, but not have an old grimey couch impede on working space.
Running water would be sweet, but I'd give it up for cheaper heat haha.
More overhead lighting.  I find myself grabbing a trouble light 95% of the time I need to work on something.